Rican Havoc Birthdays
Febuary
5-Moe Frost
May
28-Chio Frost
July
4-JC Static
August
18-Jocelyn Frost
27-Bodacious Pretty Boy
November
21-Angelina Frost
Rican Havoc Accepting Application !
If you are a woman and think you are HOT enough for Rican Havoc send us a Bio on yourself and some Pictures if we accept you we will send you a form to fill out. Please complete and return to us via Email... or at any event that we might be at in person.
Rican Havoc Fan Club !

Join Rican Havoc members MySpace pages. Links Coming Soon......
RH Mail
Copyright and Trademark Notice

The textual, photographic, video, audio, and combined audiovisual programs and products resulting from the RH Entertainment, Inc.'s events and television programs, including the material contained in this web site, are protected under U.S. and international laws as copyrighted works. Anyone who displays, reproduces, copies, creates derivative works, or sells our textual, photographic, video or audiovisual programs for commercial or non-commercial purposes without our permission violates the copyright laws and is liable for copyright infringement.
Likewise, the RH Entertainment, Inc.'s trademarks and service marks, including not only its world famous RH and RH marks, but also the names of its superstars, like Chio Frost & Kid Extreme are protected by state, federal, and international trademark laws. Any person who uses our marks for commercial or non-commercial purposes without our permission on goods or services in such a way that it dilutes the distinctive quality of our marks or that creates the likelihood of confusion with our marks is liable for trademark infringement.

Liability for copyright or trademark infringement involves the potential for significant civil damages, including in particular cases, statutory damages, liability for up to three times actual damages, and attorneys fees.

If you have any questions regarding this notice, please send an e-mail to ChioFrost@yahoo.com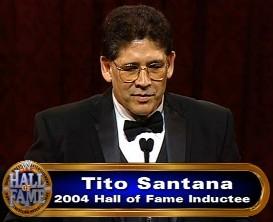 Rican Havoc Honors former WWF Intercontinental & Tag Team Champion Tito Santana
***Disclaimer: Rican Havoc would like to remind you that its Superstars are trained professional athletes. You should never try to emulate what they do in and out of the ring.

Rated X Wrestling